Purple Parsnip & Celariac Soup
4 Nov 2010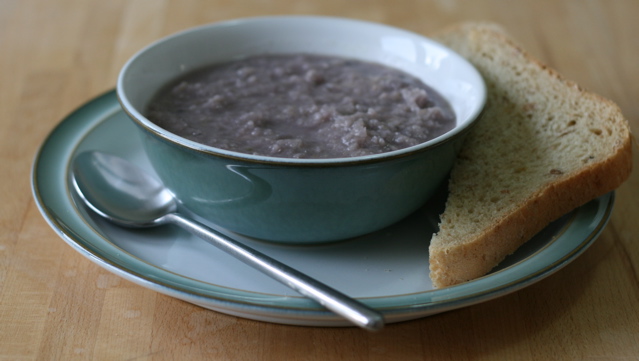 During the winter, I tend to make soups to take into work for lunch. This week's involved red cabbage (on Tori's suggestion), and so came out this rather… interesting colour. Nevertheless, it tastes great, so here's the recipe.
Makes 10 Portions
1kg Parsnips (around three good-sized ones)
750g Celariac
500g Red cabbage (about half a head - if you'd like the end result to look less alarming, you could substitute green or white cabbage)
200g Bacon (getting lardons will save on chopping)
Olive oil
Pepper
Rosemary
2 pints Vegetable stock
Preheat the oven to 200°C (400°F, gas mark 6). Peel the parsnips and celariac, and chop into 1cm cubes. Place in a roasting tin, drizzle with olive oil, and season with pepper and rosemary. Roast for 40 minutes, turning half-way through. Meanwhile, heat a large saucepan or casserole, and fry the bacon (chopping it into smaller pieces if necessary). Chop the cabbage, and bring to the boil in a separate pan with a little water. Make up the stock.
Once the cabbage is soft (about five minutes), remove it from the heat. When the parsnips and celariac are ready, add to the cabbage and blend using either a food processor or hand blender (in the latter case, you might need to do it in batches). Add the blended vegetables and stock to the bacon, bring to the boil, and simmer for 30-45 minutes.